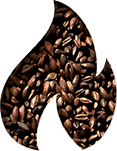 We build flavour and aroma
We start by roasting the ingredients. Cereal grains and chicory flakes are caramelised in high temperatures, gain in flavour, and become darker in colour.
Supply and quality control
The top quality, carefully selected raw materials are the basis for taste and aroma.
All raw materials delivered to the warehouses of Grana, i.e., cereal grains, dried chicory, dandelion root, coffee, are carefully selected according to established quality criteria. Only after a positive opinion from the Quality Control Department are raw materials are sent for further processing.
Read more
Read less
Roasting
Roasting is a treatment of raw materials at high temperatures. At Grana, we control this process automatically, ensuring that we maintain technology parameters, such as the colour and degree to which the material is roasted.
The perfect process of roasting cereals (barley, rye, spelt), chicory, and dandelion, influences the later taste and aroma of cereal and chicory beverages.
Cereals are roasted in a drum furnace and the roots of chicory and dandelion in a belt furnace.
Each of the raw materials requires different temperature and time of roasting. The aromatic base of ingredients thus prepared is then ready for extraction.
The entire process, which is so important for the flavour, is supervised by an experienced employee.
Read more
Read less